This lamp in our den was given to me years ago by a girl I worked with at the time. It was one of those lamps that came with the living room set at Rooms To Go, and she didn't have room for it.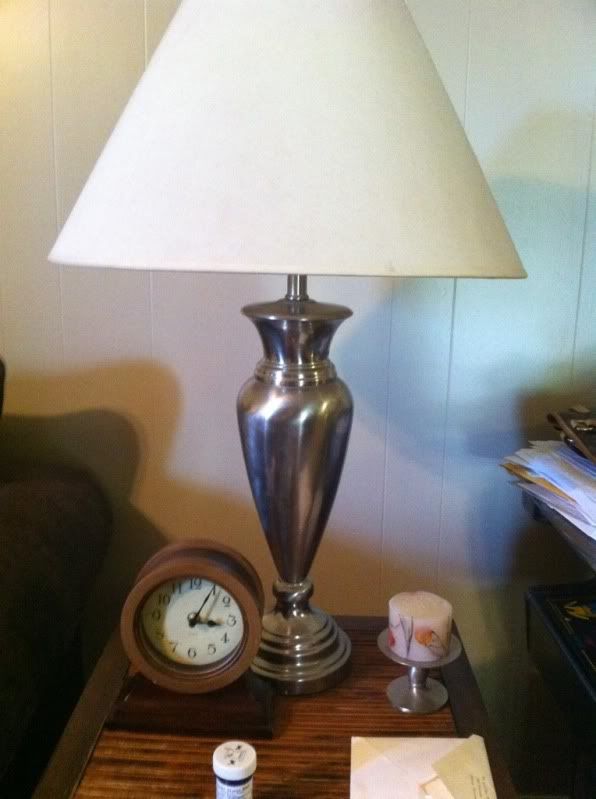 I've never really liked it, but it's a big lamp, and they're expensive to replace, so I kept it.
I decided the other day to buy some Oil-Rubbed Bronze spray paint. I had no agenda for it, but I had been seeing lots of it being used on blogs and on Pinterest, so I spent my $5 and went on my merrily little way.
Atticus was napping the other day, and the lamp was the first casualty to the ORB spray paint.
Yes, I know you can't really tell a difference in this picture, but I was too lazy to get up and take a proper one. It really does look so much better! I'm either going to get a new lampshade or buy some trim to dress this one up. I'll update when I do.
I bought these
Ikea Stockholm Blad curtains
a couple months ago for our master bedroom. I'm not a fan of the curtains that are currently hanging in there, but they apparently do not bother me so badly that I'm putting forth effort to change them out. :/ I'm going to have Michael rehang our curtain rods this weekend so that I can hang the curtains high and wide (to make the windows look larger). Ikea is great about not hemming their curtains but including hem tape so you can make them the length you want. Love them for that!
Our bedroom walls are exactly the blue that is in these curtains, but our bedding is all white (white sheets, white chenille bedspread). It works with our current curtains, but these are a little more off white. I think I definitely need colored sheets, and maybe a different bedspread too. What color do you think?