Now that Atticus is five months old, don't you think it's time I shared some pictures of his nursery?
When it came time to decorate his room, I took the lazy approach.
Michael chose this color for the room before I moved in with him (even before we met). It was being used as a storage room, so I hadn't really gotten tired of decorating with a greenish-brown color. I decided it suited a little boy, and went off to find some matching curtains.
The ones I picked actually do match perfectly, although they don't appear to in the pictures. I found them at World Market.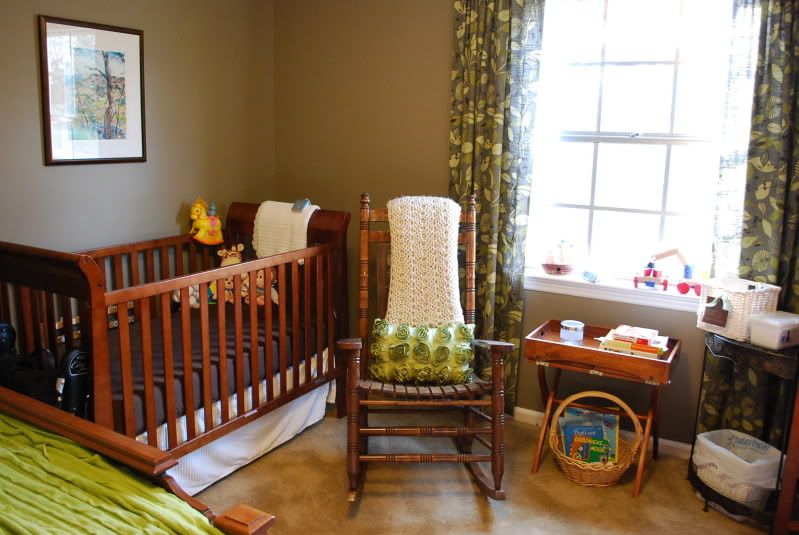 The crib (Delta Glenwood) and changing table came from Target. The painting above the crib was painted by a friend for our wedding gift. The rocking chair was stained by my father and given to my mother when I was born.
The blanket on the back of the rocking chair was (made by and) a wedding gift from my mom. The white blanket on the crib was made by my Aunt Sue when I was a baby. The yellow rocking horse on the crib rail was also mine when I was a baby. My great-grandparents gave it to my mom. It still plays a lullaby, and I play it for Atticus each night before I leave his room.
The baskets on the changing table came from Ikea.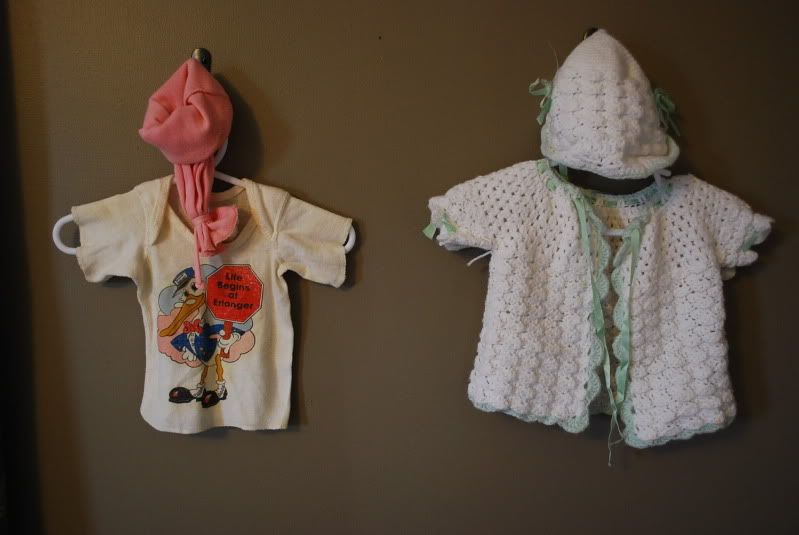 The outfit on the left was the one I wore home from the hospital. It says "Life Begins at Erlanger." Atticus was also born at Erlanger. The outfit on the right was made for me by my Aunt Sue when I was a baby. I have always intended to put Atticus' coming home outfit up there, but I can't bring myself to do it. I refuse to believe that he's grown up so much that he can't wear it anymore!
The full-size bed in Atticus' room belonged to Michael's grandparents. It is about 150 years old (seriously). We hesitated to go on and give the bed to Atticus, but eventually decided that if the bed frame has made it 150 years, it will probably make it through any abuse he can put it through. The chenille bedspread is the bedspread Michael's grandmother always kept this bed made with.
This is where I take Atticus' monthly pictures. I have added a green, brown, and cream leafy pillow to tie things in a little better.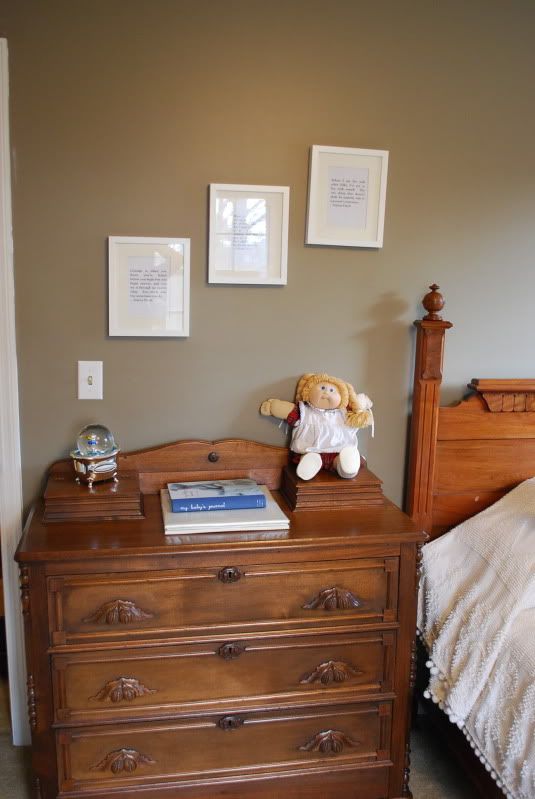 This dresser also belonged to Michael's grandparents. The snow globe was a gift to Atticus from my niece Maggie. The three frames contain quotes from Atticus Finch from To Kill a Mockingbird.
Yes, I know I have a baby boy. That Cabbage Patch Doll was my great-grandmother's. If I ever have a daughter, it will be hers, but if not, I hope Atticus will appreciate it enough to pass it down to his daughter.
This dresser also belonged to Michael's grandparents. (I'm thinking of ORBing the handles... what do you think?) I made the eye chart with Atticus' full name. He's five months old, and the picture frames are still blank. I've been busy. :)
(all of the other bedding, pillows, etc in the room came from Marshalls or TJMaxx).
So that's the nursery - full of heirlooms and family history.